On
this web page
you can download a picture:
"Intention: print it out, study it, or use it to make a scale model of the solar system.
Images from NASA.
Copyable under the Creative Commons license: not for commercial use; please attribute authorship to Jef Raskin."
A similar page is available at the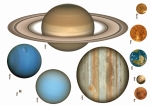 European Space Agency site
: download
it
her
e
.
"A printable PDF booklet with images of each planet which can be used to make a Solar System mobile."