If you are thinking about a career in the space sciences, you will be interetested in
this
web page:
"The Observatory of Geneva is located at the site of Sauverny (town of Versoix, Canton of Geneva), where the buildings of the Department of Astronomy of the University of Geneva (Observatory of Geneva) and the Astrophysics Lab of the EPFL (Federal Polytechnic School at Lausanne) are set up.

These two institutes work closely together at the scientific level and constitute the main gravity centre for astrophysics in French-speaking Switzerland as far as teaching, research and the service to the public are concerned.

The ISDC (Integral Science Data Centre) is located at Ecogia, which also belongs to the town of Versoix. The centre is linked to the Observatory of Geneva and deals with the processing of the data provided by the satellite INTEGRAL (INTErnational Gamma Ray Astrophysic Laboratory) of the European Space Agency (ESA)." (INTEGRAL is a gamma-ray mission of the European Space Agency (ESA) launched on October 17, 2002. The INTEGRAL Science Data Centre (ISDC) is receiving all data from the spacecraft within seconds and is providing INTEGRAL data and the analysis software to the scientific community worldwide.)
"On the two sites of Sauverny and Ecogia, a group of approximately 143 people are employed, including scientists, PhD candidates, students, technical staff (computer and electronics specialists, mechanics), as well as administrative staff..."
"The European Space Agency's gamma-ray observatory, Integral, has spotted a rare kind of gamma-ray outburst. The vast explosion of energy allowed astronomers to pinpoint a possible black hole in our Galaxy."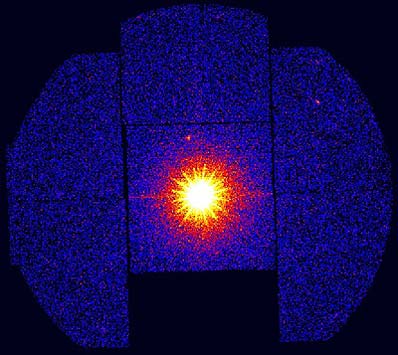 This X-ray image was obtained by ESA's XMM-Newton satellite during the night of 22-23 September 2006, and shows the intense X-ray emission of the X-ray nova IGR J17497-2821. The X-ray nova was first spotted by ESA¹s Integral gamma-ray observatory. Credits: ESA/EPIC/ISDC
The Observatory in Versoix welcomes visitors. Be sure to read the information on
this page
for schedules, reservations, etc.